Ashok Vaswani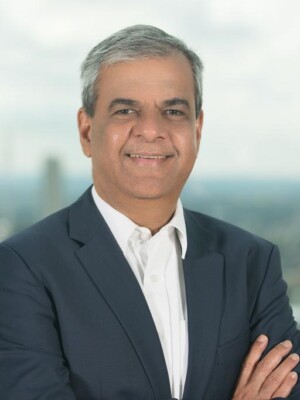 Ashok Vaswani is Barclays' Chief Digital Strategy Officer. During his tenure at Barclays, Ashok led the drive to digitize the UK Retail Bank, taking a 328-year-old bank from analogue to digital. In addition, he focused on transforming the consumer and payments businesses, and having done both of these successfully, he now leads the digital efforts across the Group.
Prior to his current role, he managed the consumer banking, private banking and payments businesses across the UK, Europe and the US. Ashok has worked in every continent, having lived in many parts of the world including Dubai, Istanbul, Brussels, New York, Singapore and London. Ashok spent 20 years with Citigroup, and his last position at Citigroup was CEO, Asia Pacific.
Throughout his career, Ashok has demonstrated a real passion for two intertwined objectives: one, building franchises with a purpose; and two, promoting education.
In addition to his executive role, Ashok is a Non-Executive Director on the board of the London Stock Exchange Group – a systematically important financial services company. He also serves as a Director on The Clearing House in the US, as well as an advisor to Rutberg & Co. Ashok is a National Trustee with Citizens Advice in the UK.
Given his passion for promoting education, Ashok is delighted to be a Director of Pratham UK. He is also a Director on the S.P Jain Institute of Management, London and a Founder Director of Lend-a-Hand, a non-profit organisation focused on rural education in India.
Ashok graduated from Bombay University and has post graduate degrees from both the Institute of Chartered Accountants of India and the Institute of Chartered Secretaries of India.
Ashok was born in India, and now divides his time between London and New York.