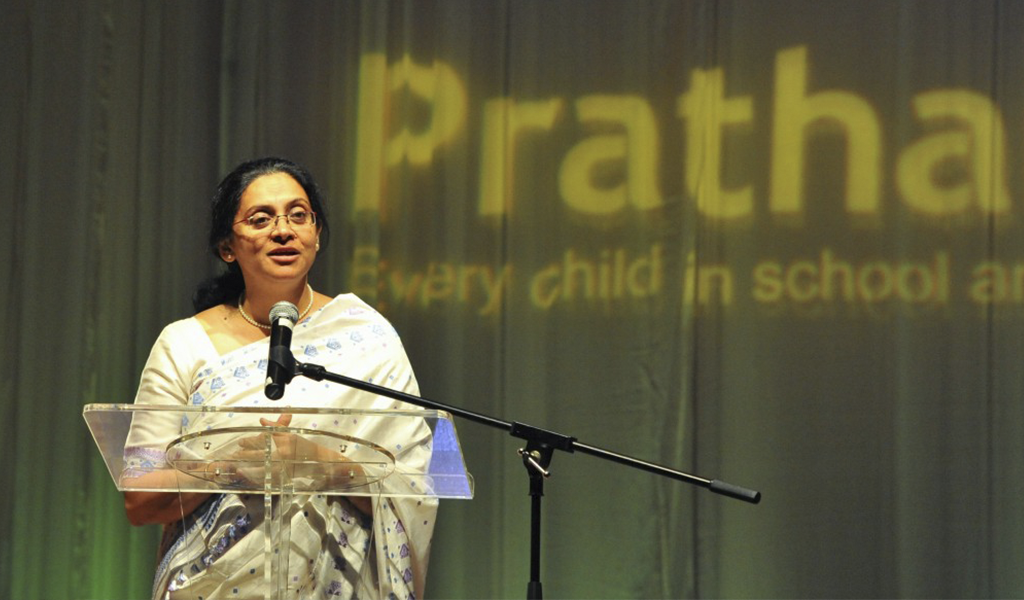 A former faculty member at Mumbai University. A social worker and educationist. An economist. An activist. These are Pratham's visionaries who have been with the organization from the beginning and have dedicated themselves to improving the lives of India's children.
PRATHAM  LEADERSHIP, INDIA
Dr. Rukmini Banerji, Chief Executive Officer
Dr. Madhav Chavan, President and Co-Founder
Farida Lambay, Co-Founder
Usha Rane, Director, Content and Training
Devyani Pershad, Head of Program Management
---
PRATHAM BOARD OF DIRECTORS, UK
Our board members hail from the upper echelons of a diverse range of industries and sectors within the UK. Their guidance and strategic decision-making—as well as their financial commitment—inspire us and help steer Pratham toward our goals.
Alka Deol, Fashion Designer and Homemaker
Sanjeev Dhuna, Partner, Allen & Overy
Ritu Kapoor, Former Director, Human Rights & Equality Council
Sakate Khaitan, Senior Partner, Khaitan Legal Associates
Roy Martins, Director, Altior Finance Ltd
Karthic Jayaraman, Managing Director and Co-Head, Carlyle Global Partners
Dixit Joshi, Managing Director, Deutsche Bank
Ravi Rajagopal, Finance Director, Europe, Diageo plc
Rajeev Sibal, Economist and Equity Analyst, Och-Ziff Capital Management
Adarsh Sarma, Managing Director, Warburg Pincus
Ashok Vaswani, CEO, Barclays Bank UK
Avinash Vazirani, Fund Management Director, Jupiter Asset Management
---
PRATHAM UK EXECUTIVE LEADERSHIP
Avinash Vazirani, Chairman
Rajeev Sibal, Company Secretary
Ravi Rajagopal, Treasurer
Vinati Sukhdev, Executive Director
Our leaders are available for comment on Pratham's programs and global impact. Please contact us at office@pratham.org.uk.
---
ANNUAL REPORTS
Pratham UK is a registered charity with the UK Charities Commission, England and Wales.  We are proud of our record of using donor contributions responsibly and efficiently. Our annual reports available below are the organisation's audited finances for the fiscal year.
Annual Report 2018
Annual Report 2017
Annual Report 2016