Dr. Rukmini Banerji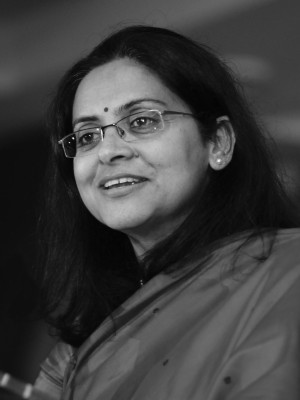 Trained as an economist in India, Dr. Rukmini Banerji completed her BA at St. Stephen's College and attended the Delhi School of Economics. She was a Rhodes Scholar at Oxford University and earned her PhD at the University of Chicago.
Dr. Banerji worked as a program officer at the Spencer Foundation in Chicago for several years before returning to India in 1996 to join Pratham as part of the leadership team. There, she led the organization's research and assessment efforts, which has included the internationally acknowledged Annual Status of Education Report (ASER) since 2005, and served as director of the ASER Centre in New Delhi for ten years.
In 2008, Dr. Banerji was the inaugural recipient of the Maulana Abul Kalam Shiksha Puraskar Award conferred by the Government of Bihar, India. Over the years, she has represented Pratham and the ASER Centre in various national and international forums and is a member of committees both in India and abroad. She writes frequently on education in India and enjoys creating books and stories for children.
Originally from Bihar, she now lives in New Delhi.
Selected publications
"Improving Literacy And Math Instruction At Scale In India's Primary Schools: The Case of Pratham's Read India Program," co-authored with Madhav Chavan in Journal of Educational Change, Volume 17, Issue 4, 433-475. November 2016. View article.
"Mobilising Community for Better Teaching and Learning Outcomes: Field Experiments in Rural Schools," in Claiming India From Below: Activism And Democratic Transformation edited by Vipul Mudgal, Chapter 12, 216-229. Routledge, India, 2016. View book.
"Teacher Performance in Bihar: Implications for Education," co-authored with Wilima Wadhwa and Shabnam Sinha in Directions in Human Development. World Bank Group Publications, Washington DC, January 2016. View publication.
"How Do Systems Respond to Disruptive Pedagogic Innovations? The Case of Pratham in Bihar," in RISE Working Paper Series. RISE-WP-15/002, October 2015. View article.