Manisha Bharti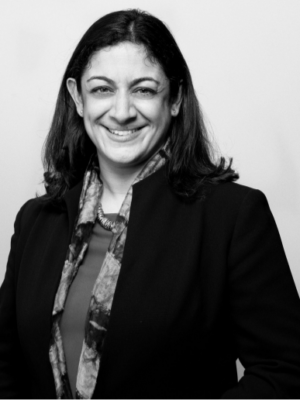 Manisha Bharti will be bringing over 25 years of professional experience in global development when she joins us as the first CEO of Pratham USA and Global Executive in September 2021. A seasoned executive, Manisha has demonstrated a keen ability to build partnerships, support diverse teams of wide-ranging talents, steward significant growth, and deepen impact for a range of India-focused and global organizations. Manisha is currently chief of strategy and programs at GHR Foundation, one of Minnesota's largest philanthropic organizations, where she oversees a grant portfolio within health, education and international
development. During the pandemic, she significantly deepened GHR's international partnerships and helped establish its racial equity program in Minneapolis/St. Paul. She also serves as secretary and board member of the Global Solidarity Fund.
From 2005 to 2016, Manisha held numerous positions at FHI 360, one of the premier global nongovernmental organizations, including chief strategy officer from 2013 to 2016. While at FHI 360, Manisha helped grow the organization from $100 million to over $1 billion in annual revenues, generate billions of dollars in new funding, diversify the organization's funder base to include over one hundred new philanthropic and corporate partnerships, and expand its impact beyond health into the areas of education, nutrition, gender, climate, crisis response, and integrated development.
Manisha has also worked for the United Nations Joint Programme on HIV/AIDS (UNAIDS), McKinsey & Company, UNICEF, the Children's Investment Fund Foundation, FXB Foundation, and the Canadian and Ontario governments. She is the youngest person to have served on a Canadian royal commission, having been appointed to the Ontario Royal Commission on Learning in the mid-1990s. Her current work is informed and inspired by her early professional experiences living in the Volta region of Ghana and the Pali District of Rajasthan. Manisha graduated with honors from Harvard University, earning an interdisciplinary undergraduate degree in social studies. She also earned two master's degrees with honors, in business administration and public
health, from Johns Hopkins University. She is soon to be certified as a Racially Conscious Collaborator©, is an active participant in the 2021 Class of the GEO Change Leaders in Philanthropy Fellowship and has a lifetime appointment as the Harvard Secretary of the Class of 1998. The title she values most is that of "mom" to her triplets: Ayrton, Avantika and her angel daughter Asmi. Her children teach her daily about the importance of humility, compassion, presence, patience, gratitude, and grace. Manisha and her family's home base is Minneapolis, Minnesota.