Young Professionals Group
Pratham's Young Professionals are united in their passion to help India's children escape a lifetime of illiteracy. The group garners support for our programmes through awareness-building events and activities, and they're always seeking new members to contribute their time and talent.
We offer unique mentoring and networking opportunities through our Vision India programme, a subscription-based platform for networking and receiving mentoring while connecting socially with others passionate about making a meaningful difference for India's children.
Member benefits include:
- Invitations to exclusive Pratham events, including talks and panels, arts and culture activities and entertainment.
- Opportunity to network with prominent figures from a diverse range of industries.
- Tax relief on your charitable contribution.
- Tickets to the Indian Professionals Forum and the Indian Young Professional Network talks.
Given its in-person nature, the young professional's programme was made dormant during the pandemic, we expect to relaunch it in 2023.
To register your interest in joining the young professionals when it relaunches please sign up here

Our Recent Most Young Professionals Event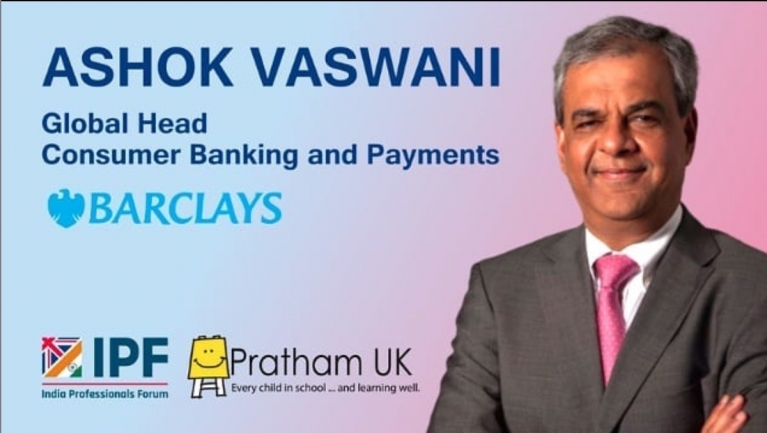 A Conversation with Mr. Ashok Vaswani of Barclays

"It is a matter of when, rather than if" - Mr. Vaswani of Barclays discusses the potential future impact of digital currencies.
Our most recent Young Professional Event was with Mr. Vaswani who is the Global Head for Consumer Banking and Payment at Barclays. It was a massive success and all our attendees got a special chance to interact with him and learn about his personal and professional life.
Join our Young Professionals Network to get a chance to attend many more of such events!

Testimonials
"Thank you so much for last night. Really wasn't expecting the talk to be as insightful as it was. Mr. Rakesh Kapoor was very inspirational - think I'll definitely be sending an application off to RB!"
Riman Khangure, Final Year student, Kings College London
"It was a truly inspiring event, hearing Rakesh speak was an amazing experience. Looking forward to the next one already!"
Gavin Goveia, Senior Manager – Capital Markets, Accenture
"I thought Mr. Anshu Jain's Q&A session was super especially his views on cricket and luck!"
Gaurav Gooptu, Vice President, Barclays Investment Banking Division

Just as it takes a village to raise a child, it takes a community to educate one. In this way, Our Young Proffesional Group brings together passionate people from all walks of life who support Pratham with a common bond: To improve the education of India's children.
Join us and become a part of the Pratham community.