May 27, 2020
Reaching out in Assam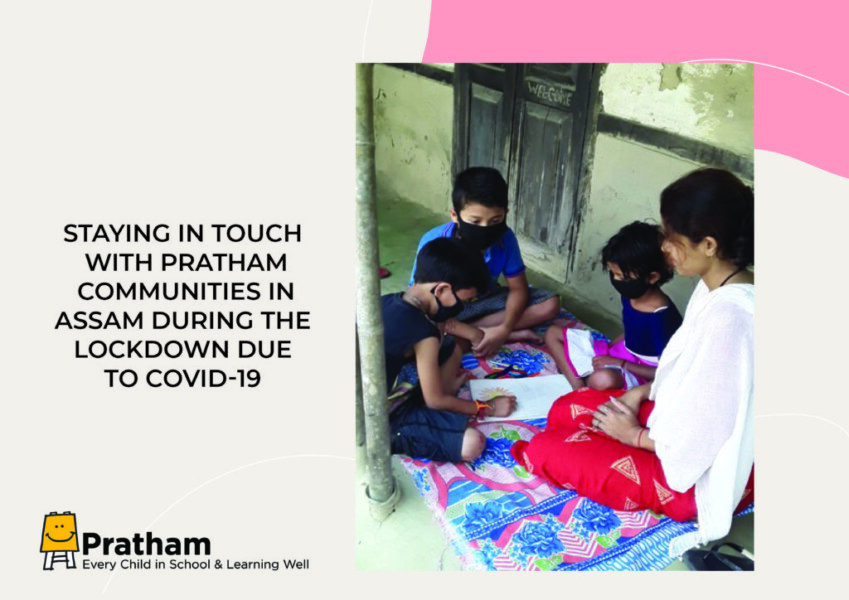 In villages where Pratham has a direct presence, groups of children meet for daily structured activities in their neighborhood. The aim of these interactions is to encourage collaborative work and foster learning outside of school. Each group is supported by a local volunteer—often a parent or sibling—with guidance from a Pratham team member, who provides educational materials and activities. These learning groups exist in more than 5,000 under-resourced communities across India and are part of a nationwide Pratham initiative to provide comprehensive, sustained learning support by addressing the needs of children in their early, primary and middle school years.
With the country of 1.3 billion now in lockdown, Pratham has pivoted its work to adapt to the changed social landscape. Using existing community connections and Pratham digital content, we are keeping children engaged and safe by imagining new ways of staying connected to them during this period.
Each morning, as part of our new learning series called Karona: Thodi Masti, Thodi Padhai (Do it: a little fun, a little study), Pratham team members reach out to volunteers—mothers, youth and other community members—to instruct them on the day's activities. These interactions, which take the form of text messages, calls and video chats, also provide an opportunity to discuss health-related issues surrounding the pandemic.
The volunteers then carry out the lessons over the course of the day with children who live nearby. The carefully curated content, which includes storytelling, math problems, science models, drawing and painting, as well as precautionary measures against COVID-19, keeps children's minds on learning rather than the current situation.
Read more about how we are remaining connected with communities in Assam.
These efforts are critical for a state like Assam, of whose 31 million residents, 32 percent live below the poverty line. In 2018, Pratham's ASER report revealed that only 34 percent of the state's fifth graders were able to read a second grade-level text.