Pratham's Response to COVID-19

Keeping children learning
When India went into lockdown, our local team members began to collect all the phone numbers they could of families in the 11,000 communities we were working in. We used the numbers to send WhatsApp or SMS messages with a series of daily activities for parents of children of all ages called Karona: Thodi Masti. Thoda Padhai ("Do it: a little fun, a little study." The word "Karona'' sounds like Corona, and in several Indian languages means "do it.")
These messages feature video and audio content that facilitates hands-on learning activities in art, music, theatre, math, language and science. We translated these into 12 regional languages. A local Pratham team member followed them up with a weekly phone call to the families in his/her village. These calls boost spirits, spur conversation around the activities and provide an opportunity for family members to ask questions about the health-related materials that have been shared. These activities were also shared with over 200 NGOs and 14 state governments. Many families sent back photos videos showing us what they were learning.

Pratham TV in Bihar
In May, during the lockdown, the Govt. of Bihar approached us to make tv programs for children. With no programme making experience, we have developed two hours a day - one hour for Standard 1-2 and 1 hour for Standard 3-5, which the Bihar government have been showing on Door Darshan.
The first episode was broadcast on June 1, 2020.
The 100th episode was shown on August 24, 2020.
Here is a quick glimpse behind the scenes of how it was done.

Staying Connected with Children
As India reopened, many children could no longer access their parents' mobile phones as easily. So we have recruited and supported volunteers to offer socially distanced learning opportunities in their communities. Many of the children will have been out of school for more than nine months, and this will support them to maintain learning habits and strengthen their foundation skills. We expect large numbers of children will be at risk of dropping out of school post-pandemic and it is vital for us that we reduce the numbers as far as we can - those that drop out are invariably the most vulnerable of children.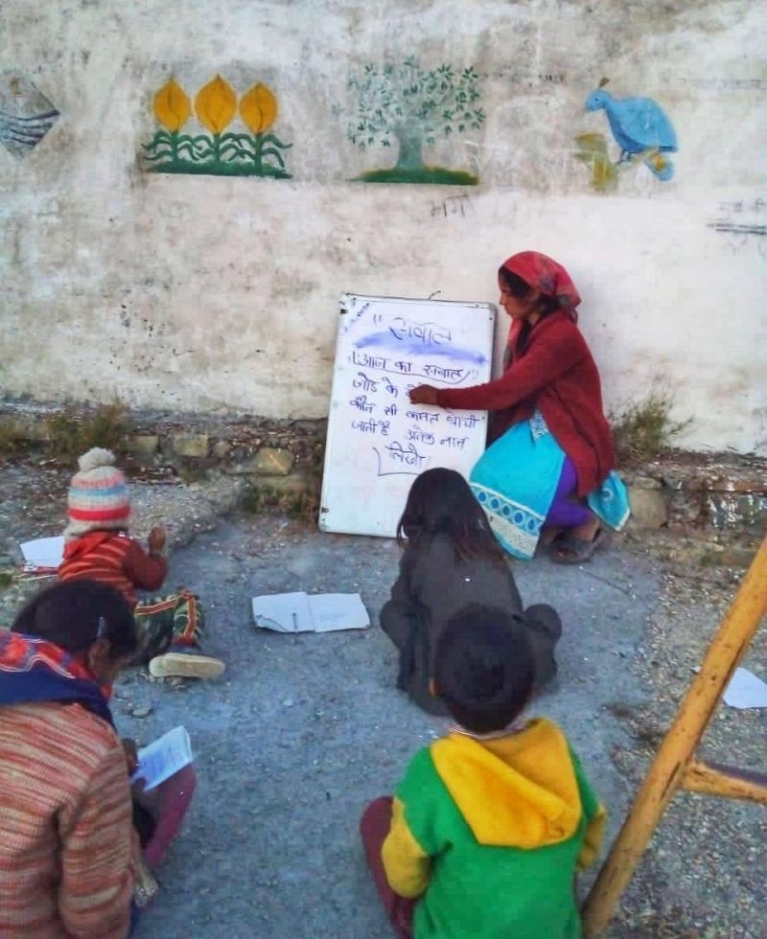 Supporting employment
Our vocational training team have used lockdown to reach out to many more young people across India to teach them new skills through webinars. They are now offering a two-phase training model with webinars to teach the knowledge before a shorter residential or on the job training programme reducing the numbers of students in the centres at any one time. They have also developed the Recognition of Prior Learning programme to help those currently seen as unskilled by offering assessments that recognise their knowledge and skills and provide alternative routes to higher education and other job opportunities. You can read about that in this Times of India report.

Understanding the national picture
Since 2005 Pratham has published the ASER Survey on education outcomes in rural India every year., it is highly influential in driving education policy in India. This is usually a house to house survey with more than 5,000 volunteer field workers. Like everything this year, it has had to adapt. We phoned over 52,000 families the length and breadth of India, and we plan to call them twice more. The first call explored the provision of and access to distance education mechanisms, materials and activities for children in rural India, and the ways in which children and families are engaging with these remote learning alternatives from their homes. The results were published in November and can be seen in this video.
We plan to run the next two waves when children return to school and once they have been back a while so that we can follow their journey back and understand why any children aren't returning.