Pratham's Response to COVID-19

A message from our CEO
Over the past 25 years, Pratham has worked at scale across India to address the education crisis facing the nation's children and youth. Today, as we confront an unprecedented challenge, we are leveraging our experience and agility to navigate the pandemic and fulfil our mission.
• Keeping people safe and informed
• Connecting with children and communities in a new way
• Sharing resources to support learning for all
• Collaborating for essential humanitarian aid
• Planning for near- and long-term economic uncertainty
Read the full update on how Pratham is responding to this crisis.

Keeping People Safe and Informed
Pratham is creating and sharing materials on safety and hygiene as well as translating WHO videos into regional languages to provide reliable information on COVID-19. 
Pratham has taken meaningful steps to ensure the safety of our employees and volunteers. In early March, job-related travel was suspended and in-person training sessions were postponed or held virtually. Students at our residential centres were sent home. And on March 17, 2020, all Pratham offices were closed. Most of our 6,500 full-time employees are now working remotely.
In addition to creating handouts and posters on COVID-19, Pratham has translated videos from the World Health Organisation into nine regional languages (Hindi, Marathi, Gujarati, Bengali, Kannada, Odia, Assamese, Tamil and Telugu). These localised versions provide a reliable source of critical information regarding hygiene and preventative measures to communities where such knowledge is often lacking or inaccurate.
Content is disseminated to Pratham staff, who in turn share it with volunteers and the families we serve through a streamlined cascading communication system. Here, cousins Simran and Payal Devi in Kashmir demonstrate proper hand washing technique after watching one of our videos.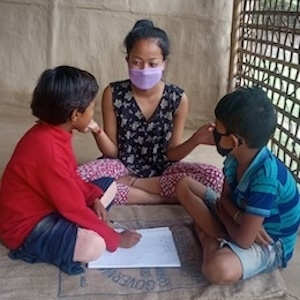 Staying Connected with Children
Our approach during India's lockdown is to leverage our technology tools and digital content to keep children engaged, with support from parents and caregivers. By shifting from in-person interactions to remote learning, we are maintaining a connection with children in communities where we have a direct presence. In addition, thanks to more than 65,000 volunteers, our outreach has expanded during this period, allowing us to serve 11,000 communities across India.
Using WhatsApp and text messages, we have begun sharing a series of daily activities for children of all ages called ​Karona: Thodi Masti, Thodi Padhai​ (​Do it: a little fun, a little study​). These messages feature video and audio content that facilitates hands-on activities in art, music, theater, math, language and science in numerous regional languages. 
Regular phone calls from Pratham team members boost spirits, spur conversation around the activities and provide an opportunity for family members to ask questions about the health-related materials they have received. Children then proudly display their finished projects.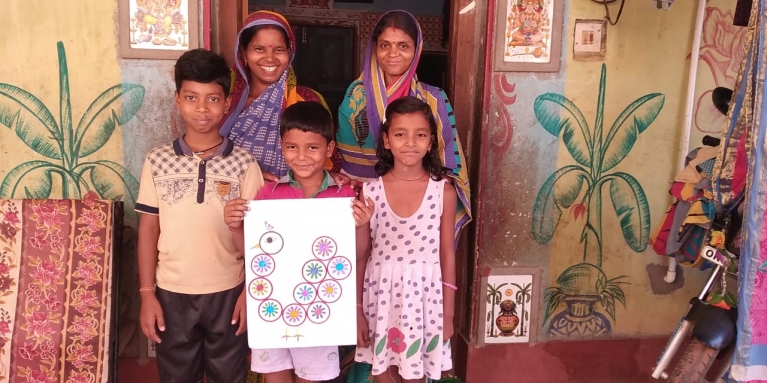 Supporting Learning For All
With schools across India locked down due to Covid-19, educators have begun transitioning to virtual classes. But a lack of infrastructure and localised content makes it difficult to reach a vast majority of children in the country.
In recent years, with support from Google.org and Sarva Mangal Family Trust, among others, Pratham has made critical investments in developing digital resources for education. This content is now being shared widely through open-source platforms that reach millions of children.
More than 14 local and state governments, such as Diksha in Uttar Pradesh, are currently utilising Pratham's digital resources. In addition, we are sharing our content with 200 partner organisations for their distance learning portals. Efforts are being made to expand this repository and ensure its accessibility.
UPDATE: Pratham content is now also being offered by Khan Academy in four Indian languages to 120,000 registered users through their India portal.